Photography Packages & Prices
To be sure that the shooting will take place on the date and time established, a deposit of 50% is required before the session and the remaining balance should be sent on the shooting day.
The photoshoot usually takes place at stunning outdoor locations in Bern, however, the photo session could be done anywhere in Switzerland. Travel expenses for shoots outside of Bern: 0.90 CHF/km. Depending on the distance, hotel and flight costs may apply. Park fees, gondola costs or other additional payments are covered by the customer.


After the photo shoot
Within 2 weeks I retouch all your images in my style(color correction, white balance and cropping)and you will receive a link to an online gallery with all edited photos, from which you can easily choose the pictures you like the most.
*Publication ban (photographer can't publish the result of your photo session in her portfolio): 50 CHF.

*Prices for Event Photography may depend on the duration, location and the type of photographs requested.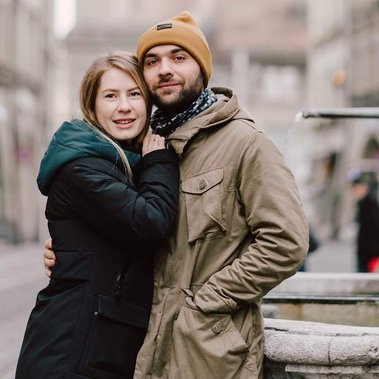 Vacation photography! Lasting memories from charming Bern 🤎

Whether you're looking for cultural activities, museums, exhibitions, nature, or great food – Bern is a great place to visit. It lies along a narrow loop of the Aare River and it's very diverse and unique. The old town of Bern is a UNESCO World Heritage Site with many fountains, narrow streets, and historic towers. Although much of the surrounding metropolis has been modernized, the center still remains intact.
I am offering photography services and creating memories of your vacation. You will return home with pleasant souvenirs from your trip to Bern. I know the best places in town to get the perfect shot for you.
This photo shoot is suitable for solo travelers, couples, families, special occasions, and groups.

💍

If you want a photo-shooting with a surprise marriage proposal in Switzerland, please write me an email. I will help you with the organization and I will be with you with pleasure on this wonderful day. 😉
The "magic hours" of sunrise and sunset are the best times of day for most outdoor photography. During yellow and blue hours, the light is soft and has little contrast. Yellow light is popular in couple and family photos because it creates a warm atmosphere and offers a lot of room for creativity. I suggest that you wear neutral colors such as white, creams, beiges, etc. Avoid patterns, keep it as simple and timeless as possible.
After the shooting, I sort all the pictures and edit them in my style (color, contrast, sharpness, tonal values, etc.). You will receive all jpeg photos without watermark per link during 1 - 2 weeks.
If you like my work and would like a photo session like this, leave me a message here with more details and I will contact you as soon as possible.